HUNTING INFORMATION AND ARTICLES
brought to you by: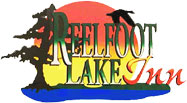 For a comprehensive list of Tennessee Hunting Seasons and for license information...visit this website
Lucky turkey hunters often wonder how their trophy stacks up against other turkeys. Well, here's how to...score your turkey
Hunters looking for a place to hunt in Tennessee are fortunate to have access to thousands of acres of...Wildlife Management Areas
How fast can ducks fly? How far can they fly? You'll find those answers and more in...migration facts and figures
Here are a couple of photos from Homra's guide service. January duck hunting on...Reelfoot Lake
The new Bogota Wildlife Management Area provides West Tennessee with a unique hunting concept...here's more
To get fired up for duck season we thought we'd bring you some...Reelfoot Lake Duck Hunting Pictures
You might know how much your big buck weighs once it's field dressed. But how much did it weigh when it was whole...here's a chart
Duck hunters are having some really nice hunts on Reelfoot. Here are a couple of ...Reelfoot Lake Duck Hunting Photos
A guide can help tremendously for hunting or fishing, especially on Reelfoot...here's why
Various wildlife management areas in West Tennessee offer public hunting for deer and/or ducks...for more information
In what may be the first of many states to follow, Arkansas has decided to ban spinning wing decoys after the 2004/2005 duck season...here's more
The annual Reelfoot Lake Waterfowl Festival features the Grand American Duck and Goose Calling Championship along with lots of great waterfowling gear...for more information
Once you've bagged your wild turkey, you might wonder how it stacks up against others. Here's some info on...scoring your turkey
Don't let those ducks you harvested sit in the freezer and burn. They're always best if consumed within 6 months and here's a good way to
...cook your ducks
The TWRA urges waterfowl hunters to report leg and neck band numbers they find on ducks and geese...here's how
Now that you've bagged a deer, it's time to field dress it. Whether it's going to be eaten or mounted, you need to know...how to field dress
Tennessee hunters are now able to purchase color maps of some of the most popular wildlife management areas in the state, including Reelfoot Lake...for more info
Hunters looking for a place to hunt in Tennessee are fortunate to have over one million acres of public hunting lands available...continued
Even though this past duck season was a slow one. It doesn't take many ducks to fill you up it they're...as big as this one
While calls are often used for Duck and Turkey hunting, deer calling is an underutilized tool that can pay big dividends. Here's more...from champion caller Brodie Swisher.
Wonder how much that field dressed deer weighed? Here's a chart...that shows field dressed vs. live weight.
The last live Trumpeter Swans documented in Tennessee were by John James Audubon during his 1820 flatboat trip...until last year
Every year there are debates among dove hunters over whether a particular field is considered legal or not...here's what the Tennessee Wildlife Resources Agency has to say.
The Seals family has been guiding on Reelfoot Lake for four generations. We had the opportunity to hunt with Jeremy Seals and learn a little about Reelfoot hunting...continued
The last wild elk killed in the state of Tennessee was in Obion County in 1865. Tennessee is now in the process of restocking elk in east Tennessee...here's more
The Tennessee Wildlife Resources Commission (TWRC) has established a new Wildlife Management Area (WMA) for West Tennessee
A purchase by the U.S. Fish and Wildlife Service increased the size of the Chickasaw and Hatchie Wildlife refuges in West Tennessee by 43,532 acres...here's the full story
Here's a short excerpt...from Lexie Leonard's book Reelfoot Lake Treasures, about the old days of duck hunting on Reelfoot.
Here's an article...from Ducks Unlimited about local duck hunter Russell Caldwell and his views on Reelfoot waterfowling.
After much debate, the early wood duck season will be continue in Tennessee...continued




Page designed by : Reelfoot.com
All contents except Mallards on front page and David Maass
artwork are property of Reelfoot.com