FISHING INFORMATION AND STORIES
brought to you by: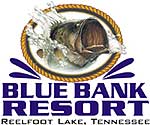 For General Information about fishing on Reelfoot Lake...click here

Just what might you catch while fishing on Reelfoot? Well, there are 29 different species that you could end up with...here's a list
Here's a humorous story from a book by Mr. Lexie Leonard. It should bring a smile to any fisherman's face.
You can purchase Tennessee resident and non-resident fishing licenses or register you boat online...at this website
The folks at Eagle Nest Resort took advantage of the great spring crappie fishing on Reelfoot. Here are a few of their...spring crappie pictures
One of the best ways to improve the action of your lure is to use a loop knot. While not needed for all types of lures it works exceptionally well with crankbaits, crappie jigs and bream jigs...here's more
There's a new law in Tennessee created with the intent of making the state's boaters more knowledgeable...for more info
Reelfoot was voted one of the top 96 bass lakes in the country and #1 in Tennessee by Field and Stream magazine...here's more
The most frequently asked questions that Tennessee boat owners have are, "Do I have to register my boat?" and "how do I do it?"...here's your answer
It looks like angler Mike Hicks brought in a world record carp from Reelfoot Lake. For the complete story...click here
Reelfoot Lake is known for producing some good bass. Angler Brian Akin put in some time in and finally got his lunker...here's more
When the wind is blowing 30 mph on Reelfoot, don't just sit around moping. There are still some good fishing opportunities at the smaller...Reelfoot Watershed Lakes
Guide Jackie Van Cleave knows what it takes to bring in the Crappie on Reelfoot. Read about our trip with Jackie from February...here
Fishing season is upon us. We thought we'd give you a few Reelfoot Lake fishing pictures to help get you fired up...here they are
Prime bass fishing on Reelfoot Lake is right around the corner. Here's a little info about...pre spawn bassin on Reelfoot
Spring is the time of year ponds frequently experience algae problems, according to the Tennessee Wildlife Resources Agency...for more information
The TWRA and Tennessee B.A.S.S. Federation have partnered to produce a new brochure entitled Keeping Your Tournament-Caught Bass Alive. It's free...for more information
Tennessee bass clubs can help themselves and the TWRA by participating in the B.I.T.E. program. You can now enter your info online. For information and a few Tennessee bass stats...click here
Think you've got a state record fish. Here are the qualifications... for getting in the Tennessee record books. Also check out the current...Tennessee state fishing records
Gibson County Lake at Trenton, Tennessee opened on April 1, 2003 for fishing...for more information
How about some crappie fishing tips from one of Reelfoot Lake's fishing pros...Guide Jackie Van Cleave
Managing your own pond for optimum fishing can be very tricky. When do you fertilize? Why are the fish all small? Luckily the TWRA has a publication to answer all your pond management questions...here's more
We've posted articles before about the great fishing opportunities in the watershed lakes that were built upstream of Reelfoot. Well, check out these...monster bass
Spring is the time of year ponds frequently experience algae problems. Here are a few tips...on controlling algae in your fishing hole.
Due to it's great success, Tennessee's official outdoor show "Tennessee's Wild Side" will now air nationally on The Outdoor Channel...here's more
Tennessee's resident senior citizens have new licenses available for purchase, including a new Lifetime Sportsman License for $200.00...here's more
Fish stocking by the Tennessee Wildlife Resources Agency will now cost $100.00 per acre...continued
Catfishing on Reelfoot provides fast action throughout the summer. Here's a photo of some Reelfoot Cats.
Controlling pond algae can significantly increase the productivity of ponds. Here's an article by the TWRA that provides more info on maintaining a healthy pond.
Commercial Crappie Fishing on Reelfoot Lake
is over. The Tennessee Wildlife Resources Commission voted unanimously to end this 34 year tradition at their last meeting...here's more
May is a great month for Reelfoot catfishing. Here's a picture of a typical Reelfoot catch as well as an explanation of the rig used catch em.
Many people don't realize the excellent Catfishing that Reelfoot has to offer. Well, not only are catfish good to eat, they provide alot of action...check these out
Boat registration renewals may now be done over the counter with the new Remote Easy Access License (REAL) system...here's the rest
Here's some pictures of crappie caught in early April. Courtesy of Eagle Nest Resort.
Here's a little information about...Pre Spawn Bass fishing on Reelfoot Lake.
Starting November 28th the TWRA is requiring boaters on Reelfoot Lake to display navigation lights between sunset and sunrise...here's the rest
Spring is the time of year ponds frequently experience algae problems, according to the Tennessee Wildlife Resources Agency...for more information