BIG OLE REELFOOT LAKE BASS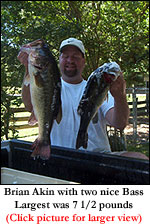 Angler Brian Akin of Dyersburg spent more time than usual chasing Reelfoot Bass this year. It all paid off for him Sunday with this 24", 7 Lb. 8 Oz. Lunker. He's been through some good days and some bad days this spring/summer. But it just goes to show, if you put in the time and effort, good things will come.
Bass fishing has been up and down over the last few weeks on Reelfoot. The one thing that's consistent is the fact that Reelfoot produces good sized bass on average. You might not catch 50-60 fish like on some lakes. But, you've got a good chance at a nice largemouth any time of the year.
It also appears that the largemouth have finally settled into their summer time pattern. So, the methods we're mentioning here should continue to produce through the summer months.
Brian and his dad hit the water early Sunday morning, leaving the ramp while it was still dark. They knew that hitting it early this time of year can really pay off, and of course it did.
Fishing chartreuse buzzbaits (with a clicker), they brought in 8 fish by 7:30, including three keepers and the lunker. The bass hit early and hit hard and then it was over at 7:30. You can catch bass almost any time of the day. But, you've got to take advantage of early mornings and late afternoons this time of year.
They were fishing around a ditch in about 6 feet of water, buzzing the buck brush and the logs sticking out of the buck brush when they started picking up fish. Brian brought in a nice 19"er and five minutes later hooked the big one.
He was fishing the buzzbait as slow as possible. Just fast enough so it gurgles along on the top of the water.
As mentioned, they were focusing on logs sticking out of the brush and that's exactly where the big one came from. Fish that buzzbait as tight to the logs and cover as possible. Let me say that again, "Fish it tight to the cover!".
Brian also finished second in the recent Jimmy Dean bass tournament. He didn't land any monsters in that tournament. But, through his practice and the tournament, he knew there were some big bass to be had. He kept coming back til he got his wall hanger.
One thing to note: This bass is post spawn. If this same bass would have been caught in March it could have easily been a pound heavier. Still a great fish in anybody's book.
Congratulations to Brian on a nice fish!
Good Fishin!