World Record Bighead Carp
by Evan Jones
Editor of The Lake County Banner
From May 13th, 2003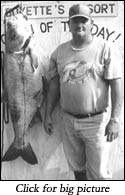 There are fish stories.
And then there are true fish stories like the one that happened to Mike Hicks last Wednesday.
This time the big one didn't get away and a world's record was obliterated in the process.
Hicks landed a 73 pound, 8 ounce bighead carp on May 7 using a Zebco 33 rod and reel and 17-pound test Berkley trilene line. The fish was 56 inches in length and 35 inches in girth.
He beat the previously held world record of 62 pounds, four onces by more than ten pounds. It was held by Timothy W. Outland with a bighead carp caught in Barkley Reservoir on May 1, 2002.
And if Hicks wasn't having a good enough day already, TWRA officer Ronnie Capps was on hand when the fish was caught to help expedite the certification process, which is currently ongoing.
Hicks, 42, of Tiptonville, was bank fishing around 7 a.m. on May 7 with worms on the lake side of the Spillway ditch.
"I knew I had something big," he said. "I thought maybe at first it was just a big cat."
He fought the giant fish for about 20 minutes before it was landed with the help of Ricky Quick of Hornbeak.
"The fish kept trying to get over around the dock and all the structure there," said Hicks. "I knew if he got in there he would break the line and be gone.
"I worked him over toward the dock. Ricky was there with a big dip net but the net wasn't big enough to get him in.
"Ricky just reached down and got him through the gills and hauled him up on the dock."
The bighead carp is much different than the common red carp found in this area. "A lot of people call them "lookem' downs," said Hicks. "It has tiny scales, it almost looks like skin. It doesn't have the really large scales like the red carp."
David Sams, assistant TWRA manager of the Reelfoot Lake WMA, said they were aware there were some really large bighead carp in the lake. "They get huge," he added.
Judy Capps, owner of Boyette's Resort and Ronnie's mom, took pictures and also contacted Berkley and Zebco about the record catch. Berkley has already reponded by email that they are sending a gift package to Hicks.
The big fish is currently being stored in a freezer pending the certification process. "I might have it stuffed," said Hicks.
Hicks, ever the veteran fisherman, continued to fish after landing the monster. "We didn't catch anything else like that," he added.
We would like to thank Evan Jones and The Lake County Banner for allowing us to reprint this story.