Fishing Tips and Tricks
(the loop knot)
One of the best ways to improve the action of your lure is to use a loop knot. While not needed for all types of lures it works exceptionally well with crankbaits, crappie jigs, bream jigs and any other lure that needs some extra action.
By tying your crankbait on with a loop knot, the lure works more freely and the natural action of the bait is greatly increased.
Crappie and bream jigs hang better and also move more freely. This little bit of extra action can make a big difference.
Here's one of the more common loop knots: The Duncan Loop.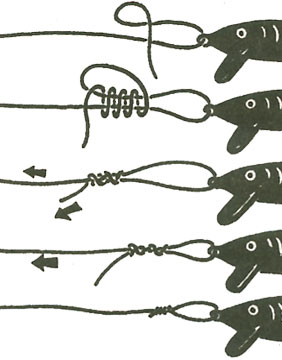 The first two steps of this diagram are self explanatory. In the third step, you are trying to tighten the knot up some but not all the way. In the next step you just slide the knot down to the desired distance from the eye by pulling the standing end (attached end). Then pull the tag end (cut end) to secure the knot. Make sure you give the tag end a good pull. Some people even use pliers for this last step, since the knot can slip down the line under extreme pressure.
This knot will also retain 95% of the lines strength, which makes it one of the most reliable knots you can use.
Instead of cinching down your line, next time give a loop knot a try and maybe you'll put a few more fish in the boat.