This page brought to you by:

Reelfoot Lake Duck Hunting
West Tennessee Duck Hunting Report
2014-15

FINAL YOUTH WATERFOWL HUNT

Youngsters ages 6-15 years of age get another crack at duck and goose hunting Saturday as the final Youth Waterfowl Hunt arrives. The kids got to hunt last Saturday as well.

Each year two days are set aside for the special Youth Waterfowl Hunt and this year those days were separated by a one week closure, allowing the hunts to take place on two different Saturdays after the regular season closed.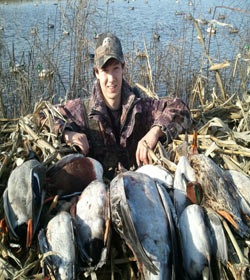 Fowler's Point Guide Service

MEDIOCRE DUCK SEASON FOR MOST…NUMBERS BELOW AVERAGE

By Steve McCadams

It was supposed to be a banner fall flight of ducks as news from the breeding grounds last summer showed an above average hatch. Several species were above their long-term average when brood surveys were taken by biologists with the U. S. Fish and Wildlife Service and Canadian Wildlife Service.

When news from the prairie pothole region of Canada and the Dakotas showed a wet spring and good habitat enhanced nesting efforts the stars were once again in line for a liberal daily bag limit and a long 60-day duck season for the flyway states.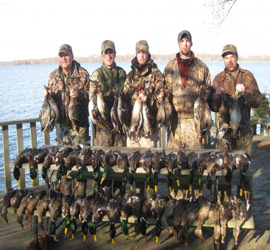 Parker's Outfitting

Hunters were pumped. There was reason for optimism.

All hunters know weather is the big factor as it influences when ducks fly and also where they go. Other factors enter the equation too such as rainfall or lack thereof. Flooding can scatter ducks at times but it also helps backwater and lowlands areas for some mobile hunters who follow the water and the ducks as they wade or use boat blinds and other temporary setups.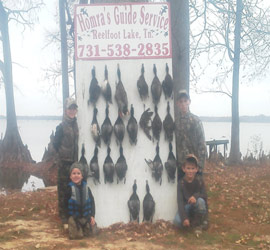 Homra Guide Service

Cold weather is always on the minds of duck hunters as they thrive when north winds gust, dropping temperatures while raising the interest level as new ducks migrate south. Too warm and the ducks sit around fat and sassy; too cold and ice enters the picture, adding another hurdle.

Tennessee's statewide season ended last Sunday and for most it was mediocre while a few had a downright poor one. There were a few---and there always are---that were above the curve and enjoyed a decent year bagging sufficient numbers. They were in the minority.



Duck numbers here in the Kentucky Lake area were pretty good back in mid to late November and this year's early weekend opener November 22-23 was the beneficiary of some unusual early cold weather that pushed good numbers.

After a good opening weekend across the region and a decent second season opener the honeymoon ended early. December was mild with a lot of days favorable to winter fishing but not too suitable to waterfowlers yearning for wind and cold fronts.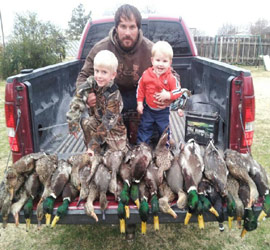 Blakley Guide Service


Popular wildlife management areas such as Dover bottoms on Barkley Lake and the units of Camden bottoms, Big Sandy, Gin Creek, and West Sandy's Springville bottom had a few blinds that flirted with activity from time to time but the overall scenario was one of inconsistency.

For every blind spot that reported a good season there were numerous ones that suffered tough hunting and downright poor shooting for the duration of the season. Despite some corn and other crops planted the units didn't seem to attract and hold ducks in decent numbers as the season progressed but neither did the Tennessee National Wildlife Refuge.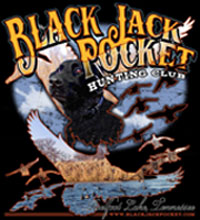 Aerial surveys taken throughout the season help tell the waterfowl story. At a time when ducks should have been building in big numbers at the peak of the winter migration the estimates actually declined at times or were well below average when compared to totals last year and in the long term of five, ten and twenty year averages.

The most recent survey taken January 21 during the last week of the duck season showed numbers were 43 percent below last year at this time. When compared to the 5-year average the estimate was 23 percent below normal. Another comparison to the 10 and 20-year average showed the latest duck count to be 18 percent below average.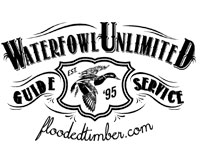 The aerial survey showed 131,786 ducks on the refuge. A few weeks earlier a survey reported 93,158 ducks, a number that actually declined from a December survey at a time when it is supposed to be increasing. There were 49 eagles observed and 6,148 geese but many of the geese---2,444---were either white fronted or snow geese with a mere 3,704 Canada geese on the entire refuge.

The refuge surveys, which are somewhat of a mystery, help tell the story of the Kentucky Lake area this season.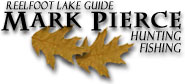 Some areas in west Tennessee reported better luck as more ducks were using the Mississippi River drainage areas such as the Forked Deer, Obion, and Hatchie River drainage areas. Several ducks were seen and taken throughout the season around the White's Lake and Horn's Bluff refuge units.

Some waterfowlers feel the migration has shifted westerly the last few years as duck numbers appear to have increased to our west. Weather and heavy rainfall always have an influence and this year the local region did not receive a lot of rainfall during the season, which may have kept ducks further to our west where a lot of flooded rice attracted and held ducks.

Tennessee duck hunters closed the book on a tough season last Sunday in hopes next year will be better. The youngsters get a chance to close the season on a good note as the next two Saturdays are earmarked for the Youth Waterfowl Hunt.

If only the ducks knew how much we spent, how early we rise and how far we drove!


Here is a phone video clip from a Reelfoot Lake youth hunt..."Smokin Teal"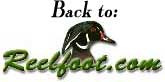 Page designed by : Reelfoot.com
All contents except Mallards and David Maass
artwork are property of Reelfoot.com