This page brought to you by:

Reelfoot Lake Duck Hunting
West Tennessee Duck Hunting Report
2014-15

DUCK HUNTERS READY TO RISE AND SHINE…SEASON OPENS SATURDAY
By Steve McCadams


Time to rise and shine. Tennessee duck hunters will set their alarms for an early Saturday morning wake-up call as the statewide season opens for a two-day segment. After a five day closure season resumes the following Saturday on November 29 for a 58-day straight stretch.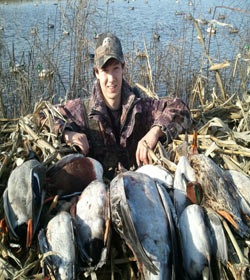 Fowler's Point Guide Service

For the last two to three weeks temperatures have been below average for the lion's share of November when blustery northwest winds blew in wicked winter weather.

Duck hunters may be wondering what's up! Most have endured bitter weather lately as they completed last minute chores to blinds while out in the unruly wind and weather. And wouldn't you know it; the weather is supposed to warm into the low 60's by the weekend, ending the Artic express that came and went before duck season even opened.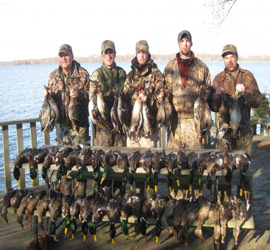 Parker's Outfitting

Although most duck hunters see their spirits perk up when cold weather descends down south, the local scene indicates duck numbers have actually decreased the last week to ten days in the area. Traditionally the West Tennessee zone and especially Kentucky Lake gets an early migration of ducks that begin arriving in late October and the first half of November.

Even though warm weather is still the norm during the late fall good numbers of species like gadwall, widgeon, greenwing teal and lesser scaup arrive early. Gadwalls and teal love to partake of the abundance of aquatic vegetation and this year they were doing just that until bitter weather the last week to ten days appeared to push them south.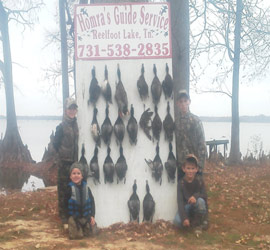 Homra Guide Service


"We always get a good push of early ducks that will linger here for a spell but these severe cold fronts lately have no doubt pushed those early ducks out of the region," said Ronnie Cole, area manager for some of TWRA's wildlife management areas. "Seems the early ducks packed their bags and moved out last week when ice took over some shallow areas."



"With the rain and warm-up coming we might see some ducks return as they often move back and forth," continued Cole when asked about the approaching season opener. "Seems a lot of ducks, especially gadwalls, moved south into northern Alabama on Lake Guntersville where abundant vegetation awaits them."

Cole said water levels at midweek were still a bit low in most units where pumping is underway in such areas as Gin Creek and Big Sandy. Not much rain has fallen lately but it is in forecast for the weekend.

Water levels in Gin Creek are about six inches below normal and some nine inches low in Big Sandy WMA. Both of those units have some pretty good corn awaiting the arrival of wintering waterfowl but duck numbers were off in both areas compared to times past.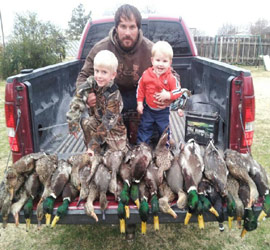 Blakley Guide Service

West Sandy WMA is about 18-inches below normal pool and some good corn is available to ducks there this season. Duck numbers were also down with a few using very shallow areas and feeding on acorns.

Dover Bottoms WMA on Lake Barkley had been holding good numbers of ducks up until this week but numbers had diminished. The area is about nine inches below normal pool.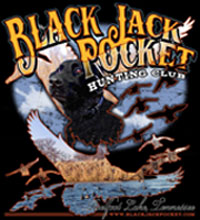 Camden Bottoms WMA was in the same boat as duck numbers using the units seemed to fall off lately as ice moved in during frigid temperatures earlier this week. However, things will change in the next few days as more water enters the units and the strong south winds and warm-up may well stimulate some activity.

The most recent aerial survey taken back on November 10 by Robert Wheat, biologist with the U. S. Fish and Wildlife Service at the Tennessee National Wildlife Refuge here on Kentucky Lake showed a total of 44,610 ducks using the units.

A breakdown in species showed gadwalls topping the list at 14,920 followed by mallards at 14,800 and greenwing teal at 7,760. The refuge total is 18 percent above the 5-year average; 24 percent above the 10-year average; and 44 percent above the 20-year average for this time of year.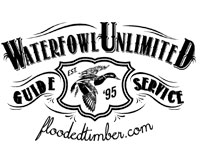 It's important to remember that aerial survey is some 12 to 13 days old so duck numbers have likely changed since then. However, the colder weather of late should have moved in some mallards and various other species.

Reports from western Tennessee indicate areas that have water have ducks. Good numbers are using the White's Lake refuge near Dyersburg, along with several private hunt clubs that have just begun to pump up grain fields and sloughs.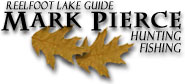 The Mississippi River drainage such as the Obion, Forked Deer and Hatchie River watersheds begin holding big numbers of ducks once the zone gets rainfall and floods. The early season last week on Reelfoot Lake was somewhat below average for some blinds, and limit out reports from others.

Ducks don't always get the memo or play by the rules. Ready or not, season is about to open.

Whether it's hot or cold; wet or dry; the big day is here as the enthusiasm level builds for dreary duck hunters who are always riding a high just as the alarm screams in the wee hours of darkness that the game is about to begin.

Here is a phone video clip to get you fired up from a Reelfoot Lake youth hunt..."Smokin Teal"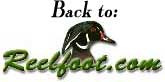 Page designed by : Reelfoot.com
All contents except Mallards and David Maass
artwork are property of Reelfoot.com