This page brought to you by:

Reelfoot Lake Duck Hunting
West Tennessee Duck Hunting Report
2015-16

YOUTH WATERFOWL HUNTS EXTEND SEASON FOR KIDS

Although the duck season ends Sunday for most hunters, youngsters ages 6-15 years of age will get another chance at both ducks and geese during two separate Youth Waterfowl Hunts. Two separate Saturdays---February 6 and 13---will be open to kids.

An adult at least 21 years of age must accompany the youth hunter into the field and must remain in a position to take immediate control of the gun according to federal regulations.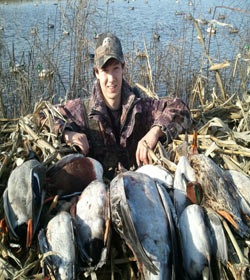 Fowler's Point Guide Service

DUCK HUNTERS HIT HOME STRETCH AS COLD WEATHER ARRIVES

Falling temperatures and fall lake levels coincided as Tennessee duck hunters enter the home stretch. The Volunteer State's 60-day season will end January 31.
Hunters across the region experienced some improvement this week with the inclimate weather pattern that dumped snow and ice over the region and saw temperatures plummet to the season's lowest mark. In fact, some areas fell victim to ice the last few days, a sharp contrast to the warm weather that dominated throughout November and December.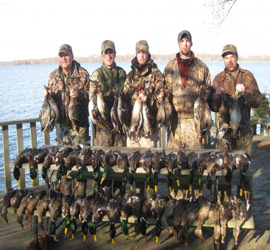 Parker's Outfitting


After a roller coaster ride for the last three weeks the Tennessee River has finally settled back down to normal winter pool elevation but the fishing scene has taken a back seat to this week's winter weather. The flooding earlier this month added another hurdle to the hunting scene too as a lot of hunting areas and blinds were inundated with too much water.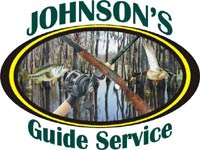 For most of the season duck numbers have been below average and scattered across a very wide area of the Mississippi flyway. West Tennessee hunters have suffered as have waterfowlers in Mississippi, Arkansas, Missouri, and western Kentucky.

Locally the popular wildlife management areas along Barkley and Kentucky Lakes such as Dover bottoms, Big Sandy, Gin Creek, Camden bottoms and West Sandy have experienced below average hunting success compared to times past.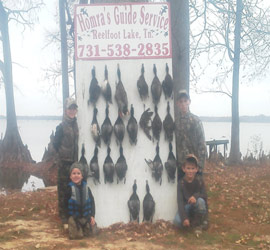 Homra Guide Service

About the only consolation for the region's tough hunting picture is knowing that hunters in other states have shared in the dilemma of disrespectful ducks. Not everyone has endured tough times as a few spots have outpaced the region's shortfall.

This week duck hunting showed some improvement in extreme West Tennessee around the Dyersburg area and in northwest Tennessee Reelfoot Lake sector. Seems a lot of ducks have stayed around the Mississippi River artery this year as some areas held ducks after the flood receded and left abundant pockets of waters in low lying areas.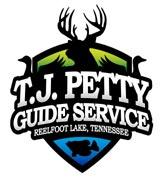 Ducks have had ample feeding and resting areas since the mid-season flood. Prior to the flooding unusually warm temperatures did not work in favor of the migration. State and federal refuges reported below average duck numbers across several states during the mid-winter survey period.

An interesting report this week from Arkansas helped put the season in perspective.

A midwinter waterfowl survey showed below-average duck abundance in The Natural State, and many hunters have reported lackluster success throughout the 2015-16 season.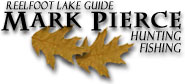 Luke Naylor, the Arkansas Game Fish Commission's waterfowl program coordinator, prepared a summary of waterfowl population surveys from Arkansas and neighboring states and also included weather data from the National Weather Service. Naylor's conclusion is that unseasonably warm and wet December climate conditions have kept large numbers of ducks away from Arkansas this season.

"I'm not implying we have a surefire way of quantifying what's going on this season, other than the reality that El Niño has brought extensive flooding to the bulk of the midcontinent mallard range along with unusually warm weather," Naylor wrote in the report. "The weather has gotten colder recently, but oftentimes this time of year ducks are preparing to go back north, not push farther south. Days are getting longer and the birds 'know' spring is coming. The final aerial waterfowl survey we're conducting this week will provide additional information."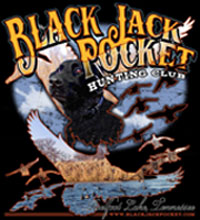 The report points out that Missouri's duck counts typically peak around Thanksgiving, but this year Missouri didn't see a peak in duck numbers until the second week of December. Naylor noted that Missouri received widespread heavy rainfall across the state.

In Louisiana, the midwinter survey in the coastal region showed 1.85 million ducks, a 30 percent decline from Louisiana's December aerial survey and almost 40 percent lower than the long-term average. Likewise, Louisiana's northeast survey zone, the closest area to Arkansas's Delta survey region, showed a drastic decline from the December to January surveys, with observers estimating 106,000 ducks and 88,000 geese compared to 363,000 ducks and 199,000 geese in December.

Mississippi's midwinter survey showed total duck numbers were about 23 percent below the Magnolia State's long-term average (675,743 average, 521,662 this year), but mallard numbers in Mississippi were slightly higher than average (1.5 percent). But other dabbler species remained more than 40 percent below Mississippi's long-term average.

The report concluded with weather data showing December 2015 was the both the warmest and wettest December in 121 years of reporting. The average contiguous U.S. December temperature was 38.6 degrees, 6 degrees above the 20th century average (the previous record for warmest December was 37.7 degrees in 1939).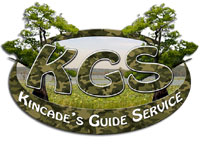 The average maximum daytime temperature was 48.1 degrees, 5.3 degrees above the 20th century average, and the average minimum temperature was 29.2 degrees, 6.6 degrees above average. The eastern half of the U.S. was especially warm, with 29 states experiencing the warmest December on record. With respect to precipitation, the December average precipitation total for the lower 48 states was 3.93 inches, which is 1.58 inches above the 20th century average, surpassing the record of 3.76 inches from 1982.

Meanwhile, Tennessee waterfowlers are hoping the final week season has some uplift. It appears decent weather will linger into next week for waterfowlers and water levels have receded from the recent rampage. Snow and ice have lowered temperatures and may stimulate some movement from sluggish ducks before season's end.

By Steve McCadams
Here is a phone video clip from a Reelfoot Lake youth hunt..."Smokin Teal"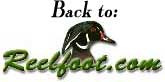 Page designed by : Reelfoot.com
All contents except Mallards and David Maass
artwork are property of Reelfoot.com