This page brought to you by:

Reelfoot Lake Duck Hunting
West Tennessee Duck Hunting Report
2014-15

DUCK HUNTERS ABOUT TO HIT HOME STRETCH
By Steve McCadams

Duck hunters across the Volunteer State are about to hit the home stretch as the 60-day season draws to a close. The statewide season, which began back on November 22 ends on Sunday, January 25.

Although some recent cold fronts brought bone chilling winds to the region the overall waterfowl picture has been a bit blurry for most duck hunters in the area. Last week's bitter temperatures did improve the hunting for a few select areas but others succumbed to ice as many shallow fields and backwaters in bottoms froze up.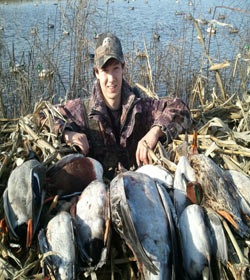 Fowler's Point Guide Service

A lot of blinds lost several days of hunting opportunity and just resumed hunting Wednesday or Thursday as the thaw was slow in coming. Despite some single digit temps last week the number of ducks across the region did not increase as much as most hunters had hoped.

Hunting reports from popular wildlife management areas the last two weeks have been mediocre at best. Blinds in Big Sandy and Gin Creek fell victim to ice a few days as did several in West Sandy's Springville bottom. Camden and Dover bottoms were in the same boat.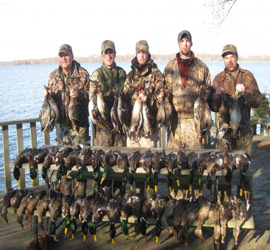 Parker's Outfitting

Prior the cold fronts hunting had been below average for the lion's share of duck hunters in those units who got off to pretty good start in the early season but quickly fell off once December arrived with an extended spell of mild weather.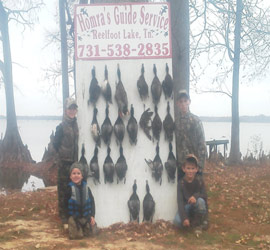 Homra Guide Service

Most duck hunters thought activity would improve with the recent cold spell but the weather did not deliver the ducks in sufficient numbers for most of the region. In fact, the most current waterfowl survey taken on the Tennessee National Wildlife Refuge showed duck numbers decreased at a time when they should have been building.

Aerial surveys taken about ten days ago help tell the story of how duck hunters fared in recent weeks. The survey's total duck count was 93,158, which was down 11 percent from a mid-December survey but a whopping 52 percent below last year at this same time.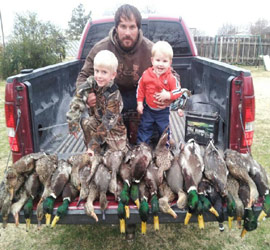 Blakley Guide Service


When compared to the 5-year average the duck numbers were 47 percent below the 5-year average; 46 percent below the 10-year average; and 45 percent below the 20-year average for this time of the year on the refuge.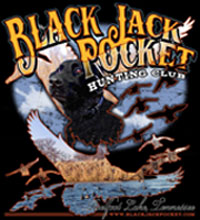 Just why duck numbers declined at a time when they should have been increasing is somewhat confusing and very disappointing to waterfowlers. No doubt the number of ducks has changed in the last week or so in the aftermath of the severe weather but hunters in most areas have not seen a big influx.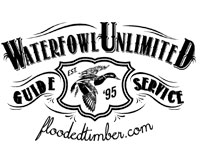 Meanwhile, duck hunters are about to run out of tomorrows as season's end is fast approaching. Warmer weather is in the forecast as the weekend approaches and for some that isn't too bad as hunters are tired of fighting ice. A lack of wind has also been a factor as ducks have been reluctant to move on the stagnant days and there have a lot of them this season.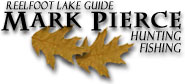 WATERFOWL SEASON DRAWS TO A CLOSE…YOUTH HUNTS AHEAD

For the older birds season draws to a close Sunday at sunset. Youngsters ages 6-15 years of age will get two more cracks at duck and goose hunting when two special Saturdays earmarked for the Youth Waterfowl Hunt arrive January 31 and February 7.

Duck hunters across the Volunteer State will see the curtain fall on a 60-day season that opened way back on November 22. After a five-day closure the second segment resumed on November 29 and has been going strong since then.

After an unusually warm week it appears some cool weather will help bring the season to a close and most duck hunters are hoping to end it on a good note.

This week's warm spell with temperatures climbing into the upper 50's and even reaching the 60-degree mark a day or two did not fare well for weary waterfowlers across most of the region.

Last year at this time frigid temperatures descended and the last full week of season was a pretty good one across West Tennessee before ice entered the picture. This year, however, the weather has seemed for like late fall and has favored fishermen more than it has duck hunters.

There have been some exceptions as a few blinds toward Obion and Forked Deer River bottoms have fared well some days as the lion's share of ducks have favored many backwater zones west of Kentucky Lake. Several blinds on Reelfoot Lake reported decent shooting the last week or so as well.

Although a few blinds always seem to have good luck the overall waterfowl picture has been pretty tough for the bulk of hunters who have logged a lot of slow mornings this season in many public hunting areas. Despite decent food such as corn and millet in some wildlife management areas ducks did not flock to many units on a consistent basis even when some cold weather arrived.

There always seems to be the have and have not's. As is the case in real estate duck blinds and hunters know a lot has to do with three things: location, location, and location!

Too bad the ducks don't appreciate how much we spend; how far we drive, and how early we rise!



Here is a phone video clip from a Reelfoot Lake youth hunt..."Smokin Teal"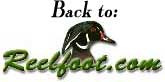 Page designed by : Reelfoot.com
All contents except Mallards and David Maass
artwork are property of Reelfoot.com