This page brought to you by:

Reelfoot Lake Duck Hunting
West Tennessee Duck Hunting Report
2013-14

YOUTH WATERFOWL HUNT

Tennessee youngsters will have two separate days after the regular season ends to call their own. The Youth Waterfowl Hunt was held on a two-day weekend in years past but this year will be offered on a statewide basis on two separate Saturdays. Dates of the hunts are February 1 and 8.

The hunts are open to kids ages 6-15 years of age and youngsters must be accompanied by an adult at least 21 years of age. Adults cannot participate in the duck hunt but may participate in open seasons for geese. Wildlife Management Areas will be open all day during both Youth Waterfowl Hunt Days.

FINAL FLIGHT FOR DUCK HUNTERS


Duck hunters were tuning up their calls this week in preparation for their "swan song". Season draws to a close at sunset Sunday across Tennessee and since it opened back on Thanksgiving Day there has been a wide range of weather.

Weary waterfowlers had another week of roller coaster temperatures that started out on Monday some 15 degrees above normal. By midweek it was time to button up the shirt, pull up the hood and back up a little closer to the propane heaters.

Frigid conditions returned on Thursday as nighttime temps dropped back to single digits and a stubborn wind chill added insult to injury. A warm up is expected by this weekend as the weatherman is promising a rebound into the low 40's, which will be a welcomed change even for tough duck hunters known to yearn for cold fronts.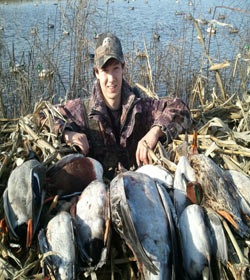 Fowler's Point Guide Service

For a lot of duck hunters the home stretch got marred by the return of ice as most shallow bottoms, flooded fields, sloughs, and even some open water bays began to succumb to the cold conditions. Ducks were really on the move as the weather approached and while some major movement took place a few days the honeymoon was short once blinds iced up and decoys glazed over and caked up.

Some good hunts were reported this week from across the region as increased numbers of mallards, gadwall, pintails, shovelers, canvasbacks and assorted divers were pushing through and entering the west Tennessee sector.

While a lot of ducks were already in the area for the last couple of weeks it seems the gusty winds and cold fronts really put the birds on the move as they darted around looking for feeding areas in their restless mood.

Most of the river bottoms were experiencing good shooting at midweek. Flooded soybean and corn fields across the Obion, Forked Deer and Hatchie bottom areas reported excellent hunting as did the Reelfoot Lake area and throughout extreme western Tennessee.

Other neighboring states had a good week too as ducks have been building in big numbers across eastern Arkansas, the bootheel of Missouri and western Kentucky. Ample water has remained in the four state area for almost a month and that has attracted big numbers of waterfowl that seemed to stay around even during the cold snaps.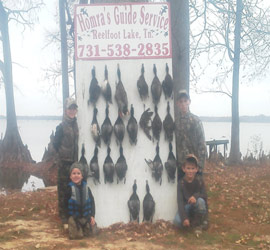 Homra Guide Service

Although some good reports were coming in from the Kentucky Lake public hunting areas such as West Sandy, Big Sandy, Gin Creek and Camden bottoms wildlife management areas have not fared well lately. It has been tough sledding for these popular spots that have done well in times past.

Going into the season hunters knew no food was planted in the TWRA units this year due to a very wet spring that prohibited planting. However, just how that would play out was somewhat of a guess and despite the lack of food duck hunters were holding on to optimism.

Turns out the ducks had choices and they opted to fly to other sectors of the state and region where accessible food and shallow water awaited them. No doubt the lack of crops was a factor in this year's season for most local hunters but there were a few decent days mixed in.

Most of the duck food was found on either the federal refuges or scattered about private hunt clubs that chalked up a pretty good season where flooded grain was an attractant. Abbreviated hunting in those areas helped hold ducks throughout most of the season but the recent rash of cold weather has seen ducks on the move searching for new food sources.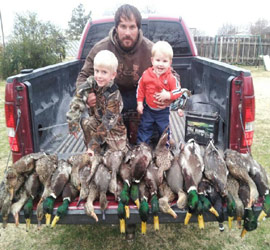 Blakley Guide Service

At a time when most waterfowlers would be hoping for cold weather just the opposite is on the wish list as the final weekend arrives. Will it warm up enough for hunters to break ice and return to blinds as the season winds down?

For some the ice may well bring an early closure. There may not be time to rebound from this week's frigid visit. Others might make a last ditch effort to bust out and get in a little hunting on the last day of a 60-day season that has been good for some, tough for most, and downright demeaning as a few dreary duck hunters will begin pulling up decoys and licking their wounds.

The curtain is falling as hunters are already looking toward next year. Pretty soon duck fatigue will lose its grip and the thrill of what lies ahead will refuel the fire for fowlers everwhere.
By Steve McCadams
Here is a phone video clip from a Reelfoot Lake youth hunt..."Smokin Teal"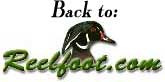 Page designed by : Reelfoot.com
All contents except Mallards and David Maass
artwork are property of Reelfoot.com