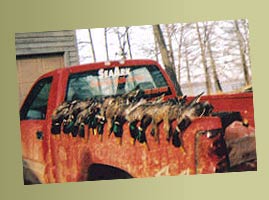 ABOUT THE HOMRAS
Jamil and Kyle are a great example of outdoor traditions being passed down through generations at Reelfoot Lake. With 4 generations of guides on each side of their family, the Homra family has done it all over the years. Whether it's chasing waterfowl, crappie, bass or anything else on Reelfoot Lake, they've got the experience to help make your trip a successful one. For any questions you may have, just drop them an...email here.
WATERFOWL HUNTS
Waterfowl hunts are provided out of 5 separate duck blinds which include 2 open water blinds, 2 located on the north end (firing line area) near Long Point Refuge and 1 blind in the Grassy Bend area. Wherever the ducks are located, they've got a blind to cover it.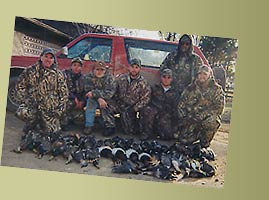 The main blind, known as the Booker Stump Blind, was named after the man who originally hunted this spot almost a century ago. Mr. Booker would bring his clients to the stump and drop them off. Then he would paddle to the shoreline, hide in the reeds and serve as tender for the hunt. Don't worry, you won't be hunting a stump anymore. At 24 feet long with a heater and a stove, the blind is a little more comfortable than the old stump. But, it's still located in the same great spot that has produced for all those years. This blind is known to harvest every different species traveling the Mississippi Flyway.
Duck Hunting Trips include 2 meals per day in a heated blind with all the other amenities needed for your comfort and success. The blinds can accommodate up to 8 people per hunt.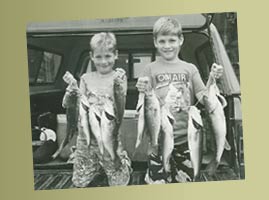 FISHING TRIPS
Jamil and Kyle have come a long way since the photo on the left was taken back in the 80's. But it just goes to show that fishing (and hunting) are a tradition in this family.
As anyone who has ever visited Reelfoot Lake knows, the crappie fishing is some of the best available anywhere and undeniably the most popular with visitors and locals. Bluegill is probably the second most popular species and Reelfoot also ranks as one of the best places for Bluegill in Tennessee. But, the largemouth bass fishing and the catfishing are often overlooked and they also provide some great action here at Reelfoot. The Homras will put you on any of these and if one's not biting, they'll find one that is.
Fishing Trips include all tackle (except for largemouth bass).
EAGLE WATCHING TRIPS
During the winter, Eagle Watching trips are conducted in a pontoon boat for the ultimate in comfort and safety. Reelfoot is famous world wide for the wintering Bald Eagle population. You can ride the edge of the lake and view eagles from afar, or you can get up close and personal on a guided trip in a boat.
---

Duck Hunting Rates:
$150.00 / per person
(minimum of 4 people)


Fishing Trip Rates:
$250.00 / 2 people
$300.00 / 3 people
$350.00 / 4 people