Lexie Leonard's Book:
REELFOOT LAKE TREASURES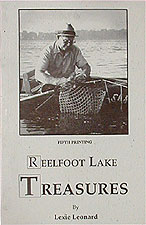 We have made available the book we consider the best on Reelfoot Lake: Reelfoot Lake Treasures.
You might have read some excerpts from this book in previous updates. If not here are a few:
An article and picture from 1914
Now as you can tell, this book is written with a down home style that makes it a true Reelfoot Lake Treasure. No Shakespearian fluff here, just good ole stories told by a man who knew Reelfoot Lake like no other and told in a way that makes it a joy to read.
Lexie Leonard loved Reelfoot Lake and knew as much about the plants, animals and the lake itself as anyone ever has. Once you read this book, you're sure to agree.
We want to thank his daughter, Rose Burkett, for allowing us to reprint this great book. It just needs to be available for all the folks who value the natural beauty and lore of this special place called Reelfoot Lake. If you like Reelfoot Lake, you'll like this book.
We are truly honored to bring it back and would just like to say, "God Bless you Mr. Leonard. Reelfoot Lake is a better place because you were here."
A few copies are still available at the Reelfoot State Park Visitor Center, Boyette's Dining Room, Boyette's Resort, Cypress Point Resort and Eagle Nest Resort.
We hope to have this book reprinted soon.