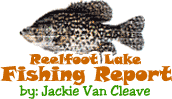 Reelfoot Lake Fishing Report for:
July 8th, 2006
Fishing is fair right now if you average them out. Bluegill and catfish are doing good, crappie is fair, bass are slow and stripes are finally picking up.
Rather mild temperatures and low humidity this week has made for some nice days on the water. Let's hope it will stay this way for a while.
Lake level is holding around pool level. That's a good level for this far into summer. Water temperatures are around 78 degrees, which is down considerably. Here's the rest:
Crappie- Crappie fishing remains fair. You're probably not going to tear them up, but you can usually get a mess to eat. Depths of 10-14 feet have been producing for minnow fishermen.
Bass- Bassin remains slow. Anglers are bringing in 7-8 fish a day if they work for them. Balck and grape flecked 6" plastic worms are good baits to try. Hit the shorelines early and late.
Bluegill- Bluegill have picked back up and the fishing would be considered good right now. Jackie is bringing in 50-70 per day and they are still running a very nice size. Crickets are the top bait.
Catfish- Good. You can catch them in a variety of depths, mostly 10 feet or shallower. The usual baits (nightcrawlers and stinkbait) should work well. However, we heard a new bait this week. Leave it to Reelfoot to come up with one more catfish bait. Anglers are using the tough pieces of meat off deer shoulders and supposedly having good success, especially with the larger fish. Now don't go out there tossing tenderloin at these critters, but if you've got some scraps you might give it a try.
Stripes (Yellow bass)- Finally get some reports on the yellow bass. They usually wait until the heat of the summer to turn on, so they're just gettin' started. Anglers are bringing in 30-40 a day chasing the surfacing schools early and late in the day. Just cruise around the grass in areas such as Swan Basin and Groom's Pocket and keep your eyes peeled. You should see some chasing minnows. Pin minnows are a good bait.
Click Here
For Other Reelfoot Lake Fishing Reports
Jackie Van Cleave is a guide for Blue Bank Resort. For more information on Jackie's guide services: Click Here
---
Questions and Comments:
Email the Webmaster
Here




Phone: 731-286-NETW
828 Granger Circle
Dyersburg, TN 38024
Page designed by : The Hometown Network
All contents except Mallards on front page and David Maass
artwork are property of Reelfoot.com