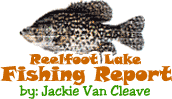 Reelfoot Lake Fishing Report for:
June 18th, 2004
Not much has changes since Monday's report. Bluegill and catfish are leading the way. Bass ain't bad. Crappie and stripes are fair.
Only major difference is that the water is now holding about 1 foot above pool stage.
Water temperature is at 80 degrees today. Here's the rest:
Bluegill: Remains excellent. They're still catching them on the beds in anywhere from 2-5 feet of water.
Jackie's bluegill rig includes a #5 split shot, #6 or #8 long shank hook and a carlisle sliding bobber. The split shot is about 6 inches above the hook.
Look for bubbles to find them on beds if it's calm, or just cast around until you find some.
One note: If you'll release the females full of eggs, you can probably come back to the same spot during the same time next year and do it all over again. You'll catch plenty of males to keep, so release any of the females you can.
Crappie: Fair. Nothing has changed from last week, so here it is again. They're scattered in anywhere from 4-12 feet. Minnows and jigs will produce, but jigs have been faring a little better as of late. Colors include blue/white and black/chartreuse. As always, don't just stick to these colors. Many others will work.
Bass: Would be considered good. Jackie tried them a couple of days this week and did well with a shallow running crankbait in a greenish (almost chartreuse) color.
Baits are the usual: tube jigs (green pumpkin), spinnerbaits (white/chrt), spoons, buzzbaits and almost any lure that looks like a minnow.
Catfish: Excellent. Ditches are still producing well and should continue to do so as long as the water is running through them, which will probably be for a while with the high water levels.
Nightcrawlers and stinkbait are both good producers.
Stripes (yellow bass) - Still catching some on the south end. They haven't hit full stride yet, but are getting better all the time.
Frozen pin minnows are the top bait.
Click Here
For Other Reelfoot Lake Fishing Reports
Jackie Van Cleave is a guide for Blue Bank Resort. For more information on Jackie's guide services: Click Here
---
Questions and Comments:
Email the Webmaster
Here




Phone: 731-286-NETW
828 Granger Circle
Dyersburg, TN 38024
Page designed by : The Hometown Network
All contents except Mallards on front page and David Maass
artwork are property of Reelfoot.com