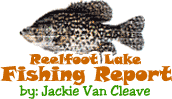 Reelfoot Lake Fishing Report for:
April 25th, 2008
The weather has really warmed up, as has the water temperature. As of Friday it had jumped up to 66 degrees. This is moving the crappie spawn along very quickly and is bringing other spawners into the picture in a hurry.
Crappie fishing is excellent right now and with the moderate wind we've seen this week, it's a great time for fishermen also. We've got a storm and a slight cool down beginning Sunday, but it shouldn't have a big affect.
Get out there and enjoy it while you can.
The lake level is receding and is now about a foot above pool level. It's still pretty high, but stumps are starting to be more of a factor at this level. Here's the rest:
Crappie - As mentioned, it's a good time for crappie. Jackie has been tearing them up in 10 feet of water. Many other depths are producing also, especially the shallow water.
These fish are spawning, as many egg laden females are being brought in. Remember, if you've got enough, then let a few of those big spawning females go back to help insure the years ahead.
Both jigs and minnows are working well. Jigs tend to be used more by the shallow water anglers and minnows are used out in the deeper water. They both should produce, so use what you have confidence in.
Bass - Bass are also spawning big time. Try around trees, logs, duckblinds and other wood structure, as these are preferred spawning areas.
One of the baits that locals have had success with is the plastic lizard (black with yellow spots). They just can't seem to resist them for too long.
Other baits include buzzbaits in the calm shallow water and jerkbaits.
Bluegill - This warm weather is really speeding up their seasonal pattern. It's considered good right now, but the best still lays ahead. They are scattered, so you'll need to cover some water right now. This will change soon as they bunch up in their favorite areas.
The average size bluegill is really nice right now.
Popeye jigs tipped with waxworms are a good bait.
Catfish - The ditches are slowing down and aren't as productive as they have been. But, the fishing would still be considered good.
The showing logs and around the pads are good areas. Try depths of 3-8 feet.
One area that should produce catfish right now is the middle of swan basin. Jackie says to get out in the middle and try every direction.
Nightcrawlers fished tightline style are working well.
Stripes (Yellow Bass) - Slow.
Good Fishing to All!
Click Here
For Archived Reelfoot Lake Fishing Reports
Jackie Van Cleave is a guide for Blue Bank Resort. For more information on Jackie's guide services: Click Here
---


Phone: 731-286-NETW
828 Granger Circle
Dyersburg, TN 38024
Page designed by : The Hometown Network
All contents except Mallards on front page and David Maass
artwork are property of Reelfoot.com