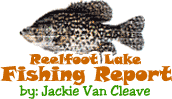 Reelfoot Lake Fishing Report for:
March 31st, 2006
Good news folks. The fish are a bitin. Things have finally got back to normal and the water temp is rising fast. Not excellent fishing right now, but good.
The dogwoods are starting to bloom and that's the sign for crappie spawning. Look for fishing to get even better with the warm weather we're having.
Lake level is about 3 inches above pool. Water temps are now at 56 degrees and rising. Here's the rest:
Crappie -Good. Things have really picked up since Tuesday. The white crappie males are turning black as they move in to get the beds ready.
Don't worry so much about the deep water areas now. Jackie recommends depths from 3-10 feet. That's a wide range, but that's the way it is when they're heading to the spawning grounds.
Minnows are the top bait, as usual here on Reelfoot.
Largemouth - Good. There aren't any real revelations to share on bass. Hit the stumps, logs and mouths of ditches with your favorite lures and you should have some luck.
We can recommend spinnerbaits, shallow running crankbaits and jerkbaits. Just use the bait you've got confidence in and you'll probably do better than something we recommend. I'd still keep a few of those aforementioned lures on hand (in shad colors) just in case your favorite bait isn't working that day.
Bluegill - Good. Try popeye jigs tipped with waxworms. Use a slip bobber and fish in depths of 2-3 feet.
There's a really good popeye jig available around the lake made by Spittin Image Popeye Jigs. Don't know how many places have them, but Blue Bank Resort carries them. Very well made jigs and they work well for crappie also.
One note: When bluegill fishing, or crappie fishing for that matter, try using 8 lb. test. It's easier to pull your lure free from all the stumps and structure that you'll encounter. If you're confident enough in your ability, then go to lighter line.
Catfish - Good. First we've really heard from them. They're bringing in some nice catches on yoyo's lately. Try around the trees with shad or shad scented bait.
Fishing 3 feet deep in 5 feet of water has been a good range lately.
Yellow Bass - They're even catching some of these. Still a little early. Just good to see some biting, as it shows that fishing is in good shape right now.
Click Here
For Other Reelfoot Lake Fishing Reports
Jackie Van Cleave is a guide for Blue Bank Resort. For more information on Jackie's guide services: Click Here
---
Questions and Comments:
Email the Webmaster
Here




Phone: 731-286-NETW
828 Granger Circle
Dyersburg, TN 38024
Page designed by : The Hometown Network
All contents except Mallards on front page and David Maass
artwork are property of Reelfoot.com