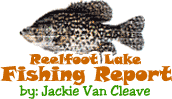 Reelfoot Lake Fishing Report for:
March 3rd, 2006
We had a nice run of warm weather lately and a nice run of windy days to go along with it. Good news is that the wind is supposed to blow about 5 mph on Saturday. Highs are supposed to be in the mid 50s. Saturday's Crapppie Master tournament ought to produce some really nice catches with conditions like that.
Water level is dropping. Still about 4 inches above pool level. Water temps are really warming up. Surface temperature in the shallow water was at 52 today. Here's the rest:
Crappie - Wind has kept most anglers in the shallow water lately. Not that that's a bad thing. Some good catches have been made in the shallows (4-8 feet). Jigs in pink/chartreuse and green/chartreuse have worked well.
Having said that: If Jackie had his druthers, he'd be fishing minnows in the deeper water right now. The wind laid one afternoon this week and that's exactly what he did, with great success.
Tournament anglers will have a variety of depths to choose from, which always helps make an interesting tournament.
Largemouth - Jackie has been bringing in some nice bass while fishing minnows for crappie. Landed a 3 1/2 pounder yesterday and missed one that would have gone around 8.
If they're catching that many bass while crappie fishing, then a bass fisherman should be able to drag a nice stringer out of there. Try working your favorite bait around the stumps in the shallow water. If your favorite doesn't work, then slow roll a spinnerbait, or slowly work a jerbait by them. Jigs and plastics should work well also.
Bluegill - Anglers are bringing in some gills this week with popeye jigs tipped with waxworms and with tiny tube jigs in black/chartreuse, also tipped with a waxworm.
Good Fishin!
Click Here
For Other Reelfoot Lake Fishing Reports
Jackie Van Cleave is a guide for Blue Bank Resort. For more information on Jackie's guide services: Click Here
---
Questions and Comments:
Email the Webmaster
Here




Phone: 731-286-NETW
828 Granger Circle
Dyersburg, TN 38024
Page designed by : The Hometown Network
All contents except Mallards on front page and David Maass
artwork are property of Reelfoot.com