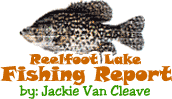 Reelfoot Lake Fishing Report for:
March 10th, 2006
Rain, wind and storms have kept the fishermen at bay a little this week, but the fish are bitin. Today is a beautiful day, so hopefully you're out there fishing, not at home reading about fishing on some website.
Temperatures are supposed to be in the upper 60's or 70's for the next few days. That sounds great. Problem is, there's also a chance of thunderstorms over the next few days. That's not so great. Typical March weather. Just get out there in between the hail storms and the tornados and you should catch some fish.
Anyhow, the crappie are really biting, the bass are doing pretty well and the bluegill are fair.
Lake level is very high. 8 inches or more above pool level and still rising. Reelfoot got about 6 inches of rain with that last set of storms. Water temps are around 52. Here's the rest:
By the way: Don't go fishing if there's a tornado coming. That was just a joke.
Crappie - Jackie said the crappie fishing is excellent right now. We couldn't hardly get the report from him without him having to put the cell phone down for a dang fish. Ain't that pitiful. Our fishing report should come first. All he thinks about is fish, fish, fish.
He's been fishing the deeper water (8-14 feet) with minnows and tearing them up. They can be had in the shallows also. The shallow water fishermen seem to prefer jigs.
The crappie are kinda scattered and kinda bunched up, if that makes any sense. It's a transition time as they head toward the spawning areas. Some are transitioning and some ain't. You might drift through an area and pick up one here and one there, or you might get into one spot where they're stacked up.
Just get out there if you can. You'll figure it out.
Largemouth - Bass fishing would be considered good. Not catching a lot of numbers, but catching some good sized fish.
The shallow water areas (duck holes) and the mouths of the ditches would both be good places to try.
On cloudy days try fishing the duck holes with a devil's horse, topwater or jerkbait.
On sunny days try the mouths of ditches with spinnerbaits, shad colored crankbaits or jig/pig combos (Jackie likes black and black/blue combos for the jigs).
Bluegill - Bluegill fishing would be considered fair. The same old popeye jig tipped with a waxworm works well.
That's enough, cause I'm.....Gone Fishin!
Click Here
For Other Reelfoot Lake Fishing Reports
Jackie Van Cleave is a guide for Blue Bank Resort. For more information on Jackie's guide services: Click Here
---
Questions and Comments:
Email the Webmaster
Here




Phone: 731-286-NETW
828 Granger Circle
Dyersburg, TN 38024
Page designed by : The Hometown Network
All contents except Mallards on front page and David Maass
artwork are property of Reelfoot.com