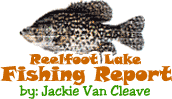 Reelfoot Lake Fishing Report for:
February 25th, 2005
Fishing had been faring rather well early in the week. Then a cold front and high winds took over for the last few days. To be honest, we don't have much information since Tuesday, since most anglers haven't ventured out in the wintry conditions.
Before the front hit, the crappie and bass were both biting well and a few bluegill were even mixed in. Should see some more good fishing soon, but the weather won't say when. Supposed to warm a little for Saturday and Sunday with temps dropping back below freezing on Monday. Whether the fish will have recovered by Saturday/Sunday is anybody's guess. Might as well try em if you have the chance.
Lake level is dropping and is now 3-4 inches above pool level. Water temps are from 48-52 degrees. Here's the rest:
Crappie- Jackie had a good day on Tuesday fishing jigs in 3-5 feet of water. Seems awful shallow, but the fish are there. The cold front could move them a little deeper. Course, it might not.
Jackie is a die hard minnow fisherman. But, he caught all his fish on jigs Tuesday. Top colors include black/chartreuse, white/blue and pink/chartreuse.
The fish are bunched up tight, so once you find them stick with them til they quit. Bonnet sticks (the stems sticking out of the water) have been one of the top areas.
Bass - Bassing has been good also. While we don't have a lot of reports to go on, even crappie anglers have been bringing in a few each day. That usually means they're biting rather well. Jackie even brought in one that weighed in near 5 pounds while crappie fishing. Now that's a good fight on a crappie pole.
Top baits include spinnerbaits (of course), jerkbaits and tubes. Jackie likes the green with black fleck tubes (pumpkinseed or whatever you call them) and fishes them weightless on a 3/0 hook. He uses a dark swivel to attach the tube, which helps prevent line twist and gives it a little extra action. This rig is called the Gardner Spicer rig. Named after the guide who was known for that technique. Mr. Spicer guided bass fishermen on Reelfoot for 65 years. Just let the tube sink 6 inches or so and work it slowly.
Try 2-4 feet of water and hit the usual cover abundant on Reelfoot (root wads, shallow trees, stumps, mouths of ditches and others).
Bluegill - Don't know that we could call the bluegill fishing good, but they have been catching some mixed in with the crappie. Whether you should try strictly fishing for them, well....maybe not this early in the year. Still nice to catch a few while chasing crappie.
Good Fishin Folks!
Click Here
For Other Reelfoot Lake Fishing Reports
Jackie Van Cleave is a guide for Blue Bank Resort. For more information on Jackie's guide services: Click Here
---
Questions and Comments:
Email the Webmaster
Here




Phone: 731-286-NETW
828 Granger Circle
Dyersburg, TN 38024
Page designed by : The Hometown Network
All contents except Mallards on front page and David Maass
artwork are property of Reelfoot.com