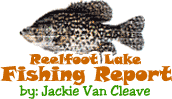 Reelfoot Lake Fishing Report for:
January 28th, 2005
With duck season winding down and fishing season just around the corner, we thought we'd bring you a little fishing info this week. We don't have a lot to go on. But from what we've heard, the crappie fishing would be considered good right now. They're catching them in anywhere from 6-16 feet of water, or even deeper if you can find it.
Good reports have come in from both the north and south ends of the lake. Wind has definitely been a factor as of late. Jackie recommends the deepest water you can find in a given area right now. Wind could likely dictate where that might be. If you can get a calm day, just head for the deep water. Minnows are the top bait.
Lake level is 8-10 inches above pool stage.
No reports on other species, since ain't nobody fishin for nuthin else.
Of note: The Grassy Island area of the Reelfoot National Wildlife Refuge will re-open it's waters on February 1st. The Long Point waters will re-open on February 16th.
We'll resume our weekly reports in March. If we get enough information we'll post reports sporadically between now and then.
Click Here
For Other Reelfoot Lake Fishing Reports
Jackie Van Cleave is a guide for Blue Bank Resort. For more information on Jackie's guide services: Click Here
---
Questions and Comments:
Email the Webmaster
Here




Phone: 731-286-NETW
828 Granger Circle
Dyersburg, TN 38024
Page designed by : The Hometown Network
All contents except Mallards on front page and David Maass
artwork are property of Reelfoot.com