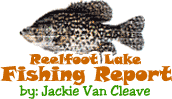 Reelfoot Lake Fishing Report for:
October 27th, 2006
The last couple of weeks have had some good fishing on Reelfoot Lake, but many species are winding down for the fall. Be that as it may, the crappie are still biting and the size of the fish being caught lately has been very nice.
Fall fishing isn't over by any means. Bass fishing has been slow since the last cold front, but they should still provide some good action before winter sets in. Some of the other species such as bluegill and catfish might have called it a year.
That's what's great about crappie fishing. Cold weather doesn't seem to bother them nearly as much as other species. They taste great and bite almost year round. What's not to like.
Lake level is right around pool level. Water temperature is around 54. Here's the rest:
Crappie- As we said, it's doing well and would be considered excellent by some of the fishermen we've heard from lately.
Jackie caught about 38 fish to get his 30 fish limit on Tuesday and didn't keep a fish under a pound. That's a good day by any standards. He even tried some jigs, though that's kind of against his nature. Just couldn't get the big fish on jigs. the larger fish were biting on minnows in 5-6 feet of water in the Kirby Pocket area.
Get out there and enjoy this great fishing when you can.
Bass- The recent cold snap slowed the bucketmouths down significantly. Had been good. Is slow right now.
Bluegill- Slow.
Catfish- Slow.
Stripes (Yellow bass)- Though these water temperatures aren't what you'd think of when you go after these feisty little rascals, they are biting none the less. Don't have many details on them, just that they're biting on pin minnows and small white spinners such as rooster tails.
Click Here
For Other Reelfoot Lake Fishing Reports
Jackie Van Cleave is a guide for Blue Bank Resort. For more information on Jackie's guide services: Click Here
---
Questions and Comments:
Email the Webmaster
Here




Phone: 731-286-NETW
828 Granger Circle
Dyersburg, TN 38024
Page designed by : The Hometown Network
All contents except Mallards on front page and David Maass
artwork are property of Reelfoot.com