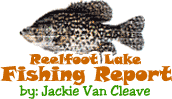 Reelfoot Lake Fishing Report for:
October 17th, 2005
The great fishing continues on Reelfoot. Crappie, Catfish and Yellow Bass are all biting. The weather is nice. A lot of folks are deer hunting, so it's not too crowded. What's not to like.
Lake level has dropped just a tad and is now about an inch below pool level. Didn't get a water temp this week, but it has probably cooled down to the mid 70's or so. Here's the rest:
Crappie- Jackie continues to wear them out. Bringing in a cooler full by lunch every day for the last two weeks. Still not catching a bunch of monsters, but a lot of 1/2 to 1 1/4 pounders. Can't complain about that.
Try water anywhere from 8-14 feet deep. You may need to cover some water to find them. Once you do, stick with em. You can probably catch a good mess in a 50-60 foot radius right now.
Catfish- Good also. No real revelations. Stinkbait and nightcrawlers are working well. Same old spots: showing logs, outside of the bonnet patches and around the trees. Best depth is between 4-8 feet deep.
Bass- They've slowed down. The next cold front could pick them up in a hurry, as it's a good time of year for bassin on Reelfoot. Just because they're not biting today doesn't mean they won't be tomorrow.
Stripes (Yellow Bass) - These fiesty little suckers are biting like crazy. Good areas include Simon's Pocket, Big Star and the shallows on the lower Blue Basin.
Small spinners and pin minnows are good baits.
Bluegill - Slow.
Click Here
For Other Reelfoot Lake Fishing Reports
Jackie Van Cleave is a guide for Blue Bank Resort. For more information on Jackie's guide services: Click Here
---
Questions and Comments:
Email the Webmaster
Here




Phone: 731-286-NETW
828 Granger Circle
Dyersburg, TN 38024
Page designed by : The Hometown Network
All contents except Mallards on front page and David Maass
artwork are property of Reelfoot.com