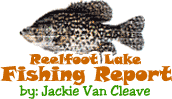 Reelfoot Lake Fishing Report for:
October 4th, 2005
We finally got some fishing news for ya. I know, I know we've been slacking. But, it's all good now on the Reelfoot fishing scene. Crappie are biting, bass are biting, catfish are biting, weather's cooling down (at least a little) and it's prime time for fishing on Reelfoot Lake.
The crappie in particular have been doing well. In Jackie's own words, "IT'S ON LIKE A NECKBONE. GET IT ON". He says it's the best early fall crappie fishing he can remember. So, get out there if you can.
Lake level is back to pool level. A great level for Reelfoot fishing this time of year. Water temp is at 78 degrees. Here's the rest:
Crappie- Good to real good. Not quite excellent yet, but they are bitin well. They are catching lots of numbers, just not catching many of the big 1 1/2 to 2 pounders yet. That's the only thing keeping it from being excellent at this point. Still a lot of fish in the half pound to 1 1/2 pound range being caught.
Crappie are being caught in anywhere from 6-14 feet of water. Jackie recommends starting in the 10 foot range with one minnow on the bottom and 1 about 6 feet deep. Once you find them you shouldn't need to cover much water.
Catfish- Good also. Jackie is bringing in 3-4 a day while fishing for crappie with minnows. That's usually a sign that they are really biting.
Good areas include around the logs, outside of the bonnet patches and around the trees. Folks have been doing well fishing small shad (about 2 inch) around the trees lately.
Bass- Good also. Like the crappie, they're not bringing in a lot of monsters yet. But, they're catching a lot of fish in the 3 - 4 1/2 pound range.
Topwaters, jerkbaits and spoons are all producing. They're biting on and off all day long.
Stripes (Yellow Bass) - We heard some good reports from the Big Star area. They were doing well with white rooster tails. Use the smaller ones.
The stripes aren't hitting the top of the water as much this time of year, so you'll have to do some casting to find them. Just cover some area and you should find em bunched up somewhere.
Bluegill - Slow.
Click Here
For Other Reelfoot Lake Fishing Reports
Jackie Van Cleave is a guide for Blue Bank Resort. For more information on Jackie's guide services: Click Here
---
Questions and Comments:
Email the Webmaster
Here




Phone: 731-286-NETW
828 Granger Circle
Dyersburg, TN 38024
Page designed by : The Hometown Network
All contents except Mallards on front page and David Maass
artwork are property of Reelfoot.com