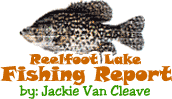 Reelfoot Lake Fishing Report for:
August 23rd, 2002
Well we didn't have anything to say last week, so we didn't post a report. Actually, there still just isn't any news on the Reelfoot fishing scene. Hardly anybody is even trying them lately and we don't blame them. Fishing is slow all the way around and to top it off it's just plain hot out there.
If you are going to try it, then go early and try for some catfish, though even the catfishing has been slow. Stinkbait and nightcrawlers are the top baits. If you're after another species, then we aren't much help. There are just not any reports coming in.
The weather is supposed to cool off Saturday night and there could be an increase in activity. But, the water temperatures are still high and fish just don't move much because of it.
If there is any fishing news, we will post it as soon as we get it.
Our suggestion is to get ready for hunting season. Squirrel season opens this Saturday. Dove season opens September 2nd and Wood Duck/Teal isn't far behind. Spend your time getting ready for these and then maybe you'll be caught up when the fishing turns back on.
If you do head out on the lake, make sure an take plenty of water and sunscreen. Heat indexes in the 105 degree range can make for a miserable day.
Click Here
For Other Fishing Reports
For more information on Jackie Van Cleave's guide services: Click Here
---