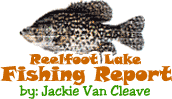 Reelfoot Lake Fishing Report for:
August 10, 2011

Reelfoot Lake is 4" below pool level. Water color is good all over the lake. Surface temps this week were 88-90 degree range.
Bluegill: Fair: Some fish are being caught around the trees out from the shore on crickets, pop-eye jigs and wax worms.
Crappie: Fair: The crappie continue to bite for some on the southern end of the lake in the deep water fishing 6-8 feet off the bottom. The fish seem to be suspended in the deeper water. A nice grade of crappie are being caught and most are doing their catching with minnows and some jigs tipped with minnows. Remember, the limit is 30 Crappie per day per man. There are no size limits on Reelfoot Lake.
Bass: Good: Bass are biting good around the pads and duck weed on top water baits. Areas with shade and baitfish are also holding good numbers of fish.

Catfish: Good: There have been reports of good numbers being caught early around large logs 5-8 feet deep.
Stripes: Good: Catching good numbers of fish on pin minnows. Look for the stripes surfacing early in the day.
Click Here
For Archived Reelfoot Lake Fishing Reports
Jackie Van Cleave is a guide for Blue Bank Resort. For more information on Jackie's guide services: Click Here
---

Page designed by : Reelfoot.com
All contents except Mallards on front page and David Maass
artwork are property of Reelfoot.com