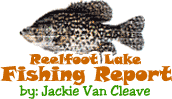 Reelfoot Lake Fishing Report for:
May 14th, 2004
We're seeing the typical patterns right now on Reelfoot. Crappie are winding down, while Bluegill and Catfish are getting better and better.
Lots of rain lately. At last count the lake level was 7+ inches above pool and it will surely continue to rise with the flood we had on Thursday.
Water temps were at 74 degrees on the main lake Wednesday. Here's the rest:
Crappie: The main spawn is over and it would be considered fair at this point.
The wind really dominated the prime spawn this year. While that wasn't good for fishermen, it should have provided a successful spawn and holds promise for good fishing in the years ahead.
Even though it's slowed down, you can still probably catch a mess to eat. Minnows and jigs fished in 5-12 feet of water should produce a few. Jig colors include blue/white and pink and chartreuse. They've also done well lately with a frog color (orange/green).
Bass: Slow to Fair.
Hasn't been a good year for bass anglers on Reelfoot. The high water during the spawn moved the bass back into very heavy cover for the prime fishing. Many of those areas are inaccessible or very difficult to access. Like the crappie, it should have provided good spawning conditions.
Top baits include the same old favorites: jigs, worms, spinnerbaits, slug-o's, buzzbaits, etc. They've also done well with top water baits like Lucky Crafts' Sammy. Try a little bit of everything until you find what they like.
Bluegill: Bluegill fishing is excellent and catches of 75-100 per day are common. They're bedded up, so just search around the shallows til you find a good bed that nobody's on.
Crickets are really working well. Might also try waxworms. For the waxworms: Use a #8 or #6 hook and 1 or two waxworms depending on their size.
Catfish: Catfishing is good to excellent right now. Try logs, ditches and the outside of the bonnet patches.
Best depths are in the 3-7 foot range. A variety of baits can be used. Nightcrawlers, sinkbait, cut shad and chicken livers should all produce some fish.
Some good areas to try include Forked Pond and the Upper Blue Basin.
Click Here
For Other Reelfoot Lake Fishing Reports
Jackie Van Cleave is a guide for Blue Bank Resort. For more information on Jackie's guide services: Click Here
---
Questions and Comments:
Email the Webmaster
Here




Phone: 731-286-NETW
828 Granger Circle
Dyersburg, TN 38024
Page designed by : The Hometown Network
All contents except Mallards on front page and David Maass
artwork are property of Reelfoot.com