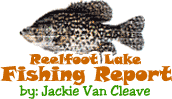 Reelfoot Lake Fishing Report for:
April 1st, 2008
Well, we probably got a little too far ahead predicting such a great weekend last week. The weather hasn't cooperated much, but the fish are biting. Look for rain and wind again this week, but the temperatures are supposed to be warm. Get out there when the weather allows it and you should do well.
The real story lately is the lake level. The water is very high, probably a foot and a half above pool level. Sure is a big change from last summer's drought levels. High water should be good for the spawning fish and should provide some good fishing for the years ahead.
Crappie fishing is leading the way, with bass doing well also.
Water temperature is at 59-61 degrees. Here's the rest:
Crappie - They're moving shallower. Fishing would be considered excellent right now. Good depths in the last few days have been 6 1/2 to 7 feet. Shallower depths should see more action this week also. Minnows are the top bait.
The dogwoods are starting to bloom and that means crappie spawning time. Get out there when you can.
Bass - Would be considered good right now. The water is moving in the ditches and that's a good place to try. The pads are also producing. Try the deeper water in the ditches (6 feet or so) and the shallower water around the pads, trees, etc.
Chartreuse and white spinnerbaits, black/blue jig pig combos and shallow running crakbaits (shad color) are all producing.
Catfish/Bluegill - They're still not doing much, but there are a few being caught here and there. Look for the bluegill to really pick it up towards the end of April and the catfish a couple of weeks after that.
Good Fishing!
Click Here
For Archived Reelfoot Lake Fishing Reports
Jackie Van Cleave is a guide for Blue Bank Resort. For more information on Jackie's guide services: Click Here
---


Phone: 731-286-NETW
828 Granger Circle
Dyersburg, TN 38024
Page designed by : The Hometown Network
All contents except Mallards on front page and David Maass
artwork are property of Reelfoot.com