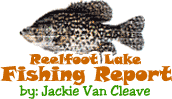 Reelfoot Lake Fishing Report for:
March 14, 2013

SPRING ARRIVES NEXT WEEK....CRAPPIE BITE GOOD

Welcome fisherman,
Jackie Wayne's back. The pass few days have been very bad. The wind has blow 10 to 20 mph guest, but believe it or not fishing's been great. Water lever is still above pool. Water temperature in the hi 30s to mid 40s. Crappie are being caught in 6ft to 12ft of water. Spider fishing with Strike King Slab Hammer baits, colors you choose them. To catch fish you need to use your on colors, then you will have confidence in them. Minnows are doing good using B'n'.M. double hook rigs. Fish as slow as possible if the wind is bad and remember don't give up they will bite sooner or later. Bluegill are very slow but you can try them in the ditches using wax worms. Bass are being caught in shallow water on Strike King lures, you choose. Catfish also slow. No report. You can't catch'em sitting at home. Get on the phone, call and make your reservation with your motel and your guide don't wait "Get it on". Till next time remember be safe! Jackie Wayne's gone fishing. Thanks to all.
If you need me my number is 731-431-9700

The Spring Crappie Bite Is On!!!
Click Here
For Archived Reelfoot Lake Fishing Reports
For more information on Jackie's guide services: Click Here
---

Page designed by : Reelfoot.com
All contents except Mallards on front page and David Maass
artwork are property of Reelfoot.com