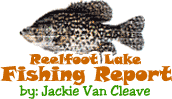 Reelfoot Lake Fishing Report for:
March 22, 2012

Reelfoot Lake is about a foot above pool level. The normal lake level is 282.20. Water color has been good for fishing with a slight stain. With recent rains the upper basin is a little more stained than the lower basin.

Reelfoot Lake crappie are responding to the extended spell of warm weather that has triggered an early start to spawning phases. It should come as no surprise to anglers this spring as a rather mild winter faded into spring but this week it has felt more like summer.

Record high temperatures were set earlier in the week as the mercury climbed to 84 degrees on the first day of spring in some areas and very warm nights have lingered. All that has combined to influence surface temperatures that climbed into the 68 to 70 degree range.
A lot of change has taken place the last few days as male crappie have darkened dramatically, a color phase influenced by hormonal changes that signals spring spawning time is here.

While mid-April this year will likely have some late spawning taking place, odds are it will indeed be in the post-spawn phases for much of the area since the fish got an early start. Still, there will be plenty of decent fishing left as all the fish donít spawn at the same time, a scenario that Mother Nature devised many moons ago to take care of her critters.
Bluegill: Fair: With the warm weather the bluegill are starting schooling up near the shore and bedding area.
Crappie: Good: Big females have moved into the shallow water this week. Some hefty stringers have been taken in depths of 1 to 3 feet casting jigs. Their egg sacs are bloated and no doubt the fish are moving toward structure to broadcast their eggs. The black and white crappie are both spawning. Some crappie are still being caught trolling jigs and minnows in 6-8' water. Remember, the limit is 30 Crappie per day per man. There are no size limits on Reelfoot Lake.
Bass: Good: The bass are under the influence of warm days that has triggered spawning activity. Fishing is good and a variety of patterns and lure selections are working. Fishermen are having success tossing spinnerbaits, suspending jerk baits and topwater presentations.
Catfish: Fair: With the warm water temp the bite should start any day.
Stripes: A few caught while crappie fishing
Spring has sprung on Reelfoot Lake!

Click Here
For Archived Reelfoot Lake Fishing Reports
Jackie Van Cleave is a guide for Blue Bank Resort. For more information on Jackie's guide services: Click Here
---

Page designed by : Reelfoot.com
All contents except Mallards on front page and David Maass
artwork are property of Reelfoot.com