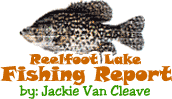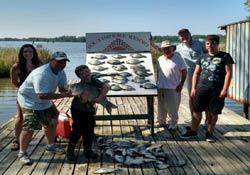 Reelfoot Lake Fishing Report for:
February 17, 2015

COLD FRONT PUTS CHILL ON WINTER FISHING SCENE

We'll folk's I'm back but it sure is cold.
Last we caught a few black crappie in 4 to 5 feet of water casting and spider fishing with jigs. We also got some on double minnow riggs.
We were fishing in the lower blue basin witch is the southern portion of the lake.
Lake level is pool at this time. Water temp. Is 42 to 46 still a little cold it needs to be in the 50's to turn them on and put them in shallow water.
No report on Bass at this time or Blue Gill. We're just going to have to wait on the weather to get a little better.
Be safe and work on your equipment. Till next time stay warm. Jackie Wayne...Gone fishing!

For Fishing or Hunting Guide give me a call...

Thanks 731-431-9700
Jackie Wayne

Click Here
For Archived Reelfoot Lake Fishing Reports
For more information on Jackie's guide services: Click Here
---

Page designed by : Reelfoot.com
All contents except Mallards on front page and David Maass
artwork are property of Reelfoot.com