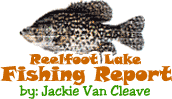 Reelfoot Lake Fishing Report for:
November 15, 2011

Reelfoot Lake is about 16'' below pool level. The normal lake level is 282.20. Reelfoot Lake water level is still very low and slow navigation is advised until we get some rain. Water color is a good light green fishing color all over the lake. Surface temps this week were in the 60 to 65 degree range.
Bluegill: Slow
Crappie: Great!: Crappie fishing has continued to hold up to its fine fall reputation as consistent action has been reported in 8 to14 foot depth range. Fishing the 8' deep stumps 4-5' deep and fish the 12-14' stumps 6-8' deep with jigs. Reelfoot Lake crappie have put on the feed bag this fall as a lot of good quality size fish are being caught. More good crappie fishing on the horizon so take advantage of this fall crappie action underway. Remember, the limit is 30 Crappie per day per man. There are no size limits on Reelfoot Lake.
Bass: No Report
Catfish: Good: The bite is good in the ditches and around the open water trees.
Stripes: Good: Catching good numbers of fish on pin minnows and road runners. Look for the stripes surfacing during day.
Although a lot of anglers have missed out on the fall fishing scene, those of us who have pursued this overlooked season have enjoyed good fishing overall. There have been a few cool and windy days but the majority of fall outings have been the beneficiary of nice weather. Donít let the cold winter weather get here before you plan another fall fishing trip.

Click Here
For Archived Reelfoot Lake Fishing Reports
Jackie Van Cleave is a guide for Blue Bank Resort. For more information on Jackie's guide services: Click Here
---

Page designed by : Reelfoot.com
All contents except Mallards on front page and David Maass
artwork are property of Reelfoot.com