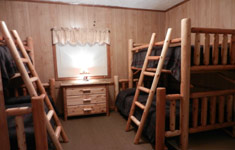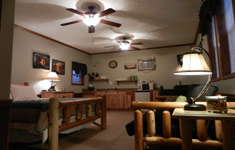 The Lily Pad is a cozy inviting cabin for couples, family or group lodging. The cabin was completed in December of 2007 with an additional bunk room completed in October 2012. Sleeping accommodations for 2 -12 include newly custom built log beds; queen, full & twin sizes and if needed 2 twin roll aways. All linens furnished. Bathroom includes shower unit with all bath linens, soaps and shampoo furnished.
Amenities include a Fish Cleaning Station with electrical hookups, outlets for boat motor charging, Satellite TV, with movie & sports packages, internet access available, Compact Refrigerator, (extra refrigerator/freezer space provided) New Wave Infrared Oven, Microwave, Coffee Maker, (coffee/sugar supplied) Deep Fryer, Crock Pot, Electric Skillet, Hot Burners, Griddles and more for your cooking conveniences. Pots and pans, bake ware, dishes, cups, glasses and silverware furnished.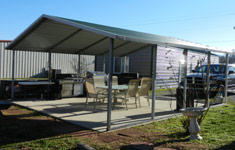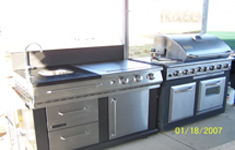 The 18 x 20 covered pavilion with a full outdoor kitchen, patio table and chairs, and a fire pit is included in all packages. Enjoy a lazy day rain or shine cooking up a fabulous meal for your group. The outdoor kitchen includes sink with potable water for washing/cooking foods, grills, (gas and charcoal) a gas griddle and stove top burners with a gas oven. Use all or any of these while you enjoy the beautiful lake view or the soaring bald eagles. (A pair recently built a nest within naked eye view!)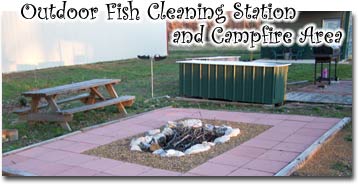 Located across from the public accessible Sunset Boat Ramp never has you worrying about a parking place once you launch your boat, you're just a short stroll across the yard! Within a mile of bait/convenience stores, and 2-4 miles of family style restaurants makes The Lily Pad a convenient, accommodating location. Call us for peak season and off peak rates, and learn how extended stays are rewarded with free nights! We'll treat you like family, so come on in! For informative postings follow The Lily Pad on facebook!

The Lily Pad Guest House
1366 Lake Drive
Hornbeak, TN 38232
Located 1.6 miles south of Samburg, Tennessee
Phone: 731-538-4943
or 270-748-6175
Site design by and all contents property of Reelfoot.com All rights reserved.